Pumping the sump –without the bio-fouling
When bio-growth on a competitor's airlift pump rendered it unusable in a landfill sump at a remarkably clean, state-of-the-art facility in the Northeast, the nationally recognized landfill installed the popular Edge Pneumatic Piston Pump™ from Blackhawk.
Bio-fouling is unacceptable to the ISO-awarded managers of the privately owned 720-acre site, which receives an average 4,750 tons of solid waste a day and is proud of its environmental management system.
The Subtitle D-conforming facility accepts household municipal waste, construction & demolition waste and commercial office lunchroom waste. With approvals, the site also may accept manufacturing waste, wastewater-treatment sludge, processed infectious waste, agricultural and mining waste, virgin-fuel contaminated waste and asbestos-containing waste.
Pumping is required to remove both leachate and gas-well condensate from a sump 20 feet deep with a 3-foot well casing. Thr sump was constructed with a gravity drain; with a water column of 10 inches. The inhibiting down-well vacuum was negative 14.33 psi.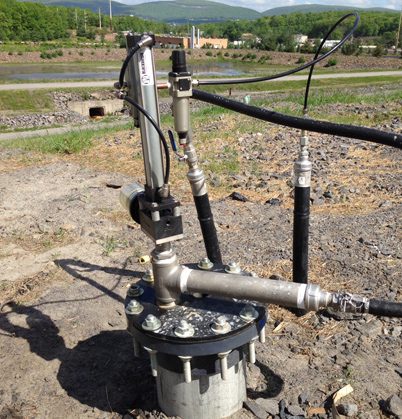 Bio-growth on the old airlift-float pump was a consequence of the air pump's design. In order to eject liquid, airlift-float pumps must force compressed air directly into the nutrient-rich fluid with each stroke. This creates a downhole pumping environment that invites slime and biorock to form on the interior walls of the pump casing and on the mechanical parts of the moving float. These airlift pumps, then, are prone to stick and hang up.
Why did the landfill choose the Edge to replace the airlift model? Like all Blackhawk's piston pumps, Edge features an above-grade reciprocating-rod driver, eliminating air-driven bio-fouling. The pump also operates independent of vacuum, a significant advantage over airlift pumps, which cannot operate under high vacuum conditions.