Apollos shine at Iowa landfill
with solar, battery or grid power;
Significantly more gas captured
GLEN ELLYN, IL – A municipal/county waste agency in Iowa has ordered several additional Apollo Piston Pumps™ following successful testing of the low-flow electric/solar pumps to dewater landfill gas wells that were impacting surrounding groundwater.
The agency's consulting engineers found that all three low-flow Apollo 101 test pumps -- each using a different power source – reduced and maintained low liquid levels in the 30-acre site's gas collection wells.
---
See Our Solar Case Study
---
The engineers installed the ¼-hp Apollos -- linear-rod piston pumps designed for cost efficiency, ruggedness and low-maintenance gas well dewatering -- in three set-ups:
Direct electric power converting 220-volt AC to 24-volt DC,
Power from 12-volt DC batteries charged through a mounted solar panel
Power from a solar panel only.
Well depths exceeded 50 feet. All three pump set-ups reduced liquid levels down to pump intakes, maintaining dewatered conditions at each well.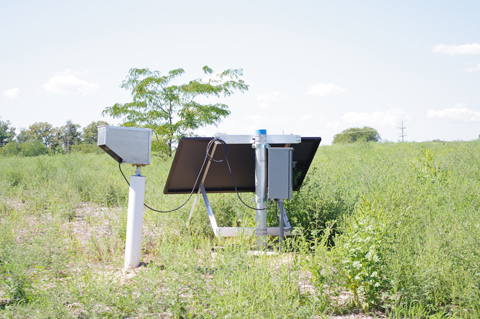 More methane
In addition to reducing groundwater issues, an added benefit of the dewatering was a significant increase in methane collection from each well, as 15-18 more feet of screen was exposed.
For the well powered only by the solar panel, roughly 3-4 feet of liquid accumulated at night when the driver was not running. During daylight hours when the pump was switched on, the residual liquid was removed, and the pump maintained the liquid level at intake.
The solar-only pump's operation was consistent day to day and matched outputs from the other two set-ups.