ZERO-EMISSION BLACKHAWK SOLARS PUMPING
ROESLEIN-SMITHFIELD BIOGAS CONDENSATE SUMPS
Missouri hog farm manure-to-energy project turns methane into natural gas
By Mark Bertane
GLEN ELLYN, IL. – Blackhawk Technology's Apollo Solar Piston Pumps™ are helping turn pig waste into renewable natural gas (RNG) at a Smithfield Foods Inc.-Roeslein Alternative Energy (RAE) joint-venture project in Missouri.
Monarch Bioenergy, the Smithfield Renewables/RAE venture entity, installed the zero-emission Apollos early in 2020 to pump 40 biogas methane condensate sumps in the gas-line recovery system. Results have been as required, a good fit for the system, a project engineer said.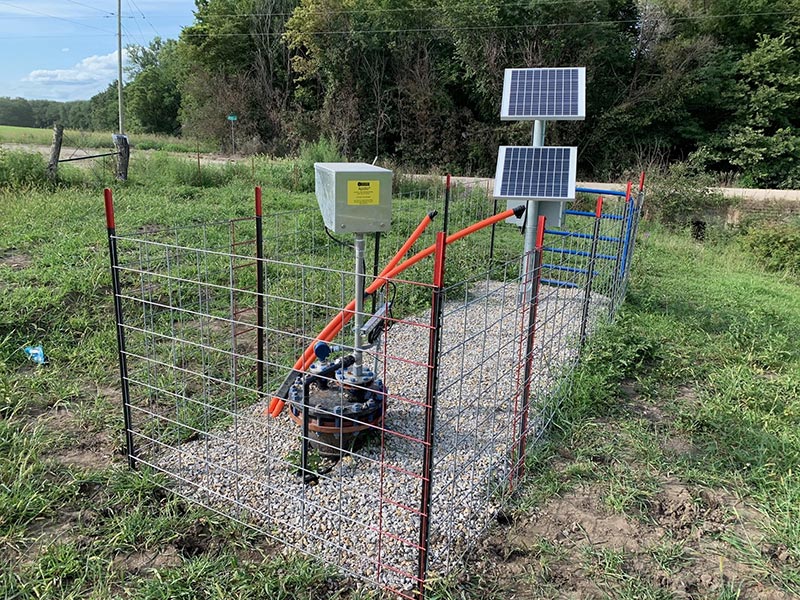 Methane captured from manure at Smithfield farms' hog-finishing operations produces pipeline-quality natural gas that is distributed to RNG markets across the country. Blackhawk, the nation's leading provider of piston pumps for landfill methane condensate-sump pumping, worked closely with Roeslein to tailor the Apollo specifications to the needs of the extensive site.
As an integral part of the system, condensate sump pumps remove the pipeline moisture that accumulates after the anaerobic digesters converts manure to gas. Blackhawk's solar pumps with on-off level-control have proven both efficient and dependable in the RNG application, with no carbon emissions, the engineer said.
"Blackhawk's zero-emission Apollo is an ideal condensate sump pump for gas-line recovery systems activated either by vacuum or low head pressure," Blackhawk principal Mark Bertane said. "Blackhawk is at the forefront of developing new uses for reliable piston-pumping micro technology. We are excited to be working with Monarch and RAE, a world leader in evolutionary energy."
In addition to utilizing non-polluting solar power, Blackhawk Apollo piston pumps are designed to move virtually any fluid – including semi-solids – with any chemical composition, viscosity or angled pipe, to temperatures of 200°F / 93°C or greater.
About Blackhawk Technology
Blackhawk Technology Company is the originator and the No. 1 manufacturer of above-wellhead, positive-displacement piston pumps – leading-edge technology refined by 30 years of customer-driven improvements. Based in the Chicago area, Blackhawk continues to introduce innovative products to the industry's most comprehensive line of pneumatic, electric and solar piston pumps and pump supplies, all designed to withstand the most demanding pumping environments.pump.info@blackhawkco.com
About Roeslein Alternative Energy, LLC
Roeslein Alternative Energy (RAE) is the owner, operator and developer of renewable energy production facilities that convert agricultural and industrial wastes, along with renewable biomass feedstocks to renewable natural gas and sustainable co-products. RAE engages in these business operations with a focus on incorporating native prairie restoration. RAE is a limited liability company with its principal offices located in St. Louis, Missouri. RAE was launched in 2012 by Rudi Roeslein, co-founder and CEO of St. Louis-based Roeslein and Associates, Inc. (a global leader in engineering, modular fabrication, and construction of industrial plant facilities).
Smithfield Renewable
Smithfield Renewables is a strategic platform within Smithfield Foods, a $15 billion global food company and the world's largest hog producer and pork processor.
###
Photos Available
Media:
Bob Carr