New pneumatic-pump lineup
offers three levels of power,
versatility and affordability
GLEN ELLYN, IL — Blackhawk Technology Company, leading the industry in above-well-drive piston pumps, is introducing its next-generation pneumatic product lineup, designed for greater power, easy operation and cost efficiency.
The heavy-duty Atlas 2.5® pneumatic piston pump is Blackhawk's most powerful yet.
Model 101 pumps to 813 feet (248 meters) with flow rates of 2 gallons per minute (7.6 liters per minute).
Model 102 pumps to 359 feet (101 meters) with flows of 5 gpm (18.9 lpm).
Model 103 offers flows of 11 gpm (41.6 lpm) at depths to 137 feet (41.8 meters).
Blackhawk's most versatile pneumatic pump, the V-2™, is a mid-range piston pump designed for the broadest range of applications.
Model 101 pumps to 555 feet (169 meters) with flow rates of 2 gpm (7.6 lpm).
Model 102 pumps to 243 feet (74 meters) with flows of 5 gpm (18.9 lpm).
Model 103 offers flows of 11 gpm (41.6 lpm) at depths to 84 feet (25.6 meters).
The all-new Edge™ piston pump is Blackhawk's affordable everyday landfill workhorse, competitive with popular airlift models yet with greater power and reliability.
Model 101 pumps deeper than airlifts to 281 feet (85.6 meters) with flow rates of 2 gpm (7.6 lpm).
Model 102 pumps to 119 feet (36.2 meters) with flows of 5 gpm (18.9 lpm).
The Edge 102 pumps with increasingly positive flow comparisons vs. airlifts beyond 60 feet (17 meters) of head. And the more powerful 102 matches airlifts' SCF air consumption.
Blackhawk's pneumatic pump lineup significantly reduces lifetime operational expenses. Rugged materials and simple design contribute to long pump life. Because drivers and controls are above the wellhead, servicing is easier and safer. Blackhawk piston pumps require far less maintenance than airlifts, with no pump pulling and no pumps lost down the well.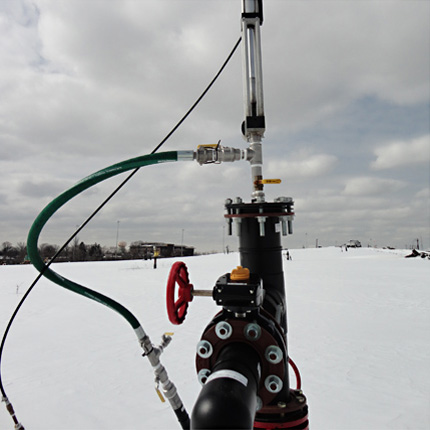 All Blackhawk's pneumatic, electric and solar models can pump highly viscous, hot and harsh chemical liquids, and can run dry. Blackhawk piston-pump advantages include:
Power and connections are above surface — No compressed air down the well
Can run dry — Will not stall in vacuum
Pumps to well bottom — Controlled draw down, no wasted head over pump
Reduces odor — No fugitive emissions
Pumps at any angle — From vertical to horizontal
Lowers potential for bio growth and foaming — No air-leachate contact
Pumps floating or sinking product — Highly reliable and efficient
Blackhawk Technology Company is the originator and the No. 1 manufacturer of above-wellhead, positive-displacement piston pumps — leading-edge technology refined by more than 20 years of customer-driven improvements. Blackhawk continues to introduce innovative products to the industry's most comprehensive line of electric, pneumatic, solar and windmill-driven piston pumps and pump supplies, all designed to withstand the harshest weather and downhole pumping environments.
Founded in 1990, the company originated landfill and groundwater remediation piston pumps now covered by several patents and marks, with more pending. No company offers more real-world piston-pumping experience in tough landfills, chemical facilities, hydrocarbon production and remediation sites throughout North and South America, Europe, Asia, Africa and Australia.
To learn more and see how a piston pump works, visit www.blackhawkco.com or call 800-469-4887.