ONE HEAD, TWO HEARTS:
BLACKHAWK'S APOLLO PUMP
NOW COMES IN LOW-COST SOLAR,
AC-ELECTRIC MODELS
Simple & reliable top-head driver outperforms with choice of power sources
GLEN ELLYN, IL -- Blackhawk Technology's Apollo piston pumps – versatile and popular choices for landfill leachate, gas-well dewatering, condensate pump and low-flow remediation pumping – are now available with either solar-panel or AC-electric power configurations.
Both Apollo Solar and Apollo-AC pumps feature a rugged, low-draw 3/8 hp motor and simple linear-rod Scottish yoke mechanism with newly designed stuffing box and cartridge seals. As with all Blackhawk piston pumps, the driver motor, power and connections are mounted safely above the wellhead for easy installation and faster servicing at surface grade, cleanly away from the liquid being pumped.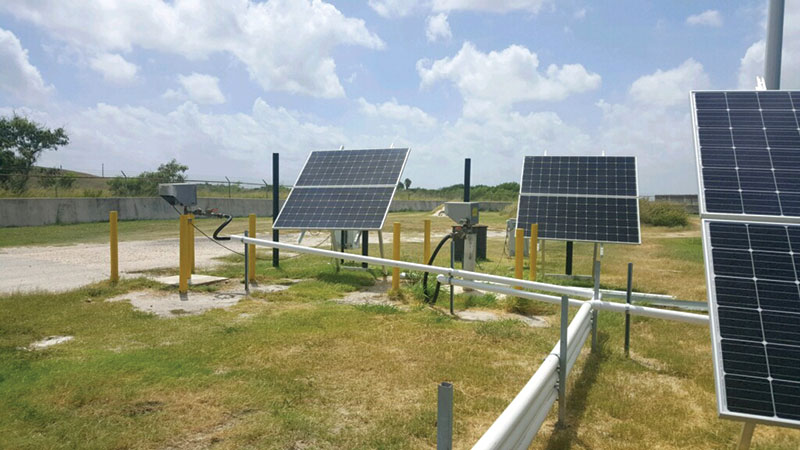 Power is free for the Apollo Solar Piston Pump™, which operates in latitudes as northerly as Toronto. Solar Model 101 offers depths to 400 feet (122 meters) at flows to 1.1 gpm (4.1 lpm). Solar 102 offers flows to 2.6 gpm (9.8 lpm) at depths to 175 feet (51 meters). They are particularly well suited to closed or remote sites not otherwise served by trenched power. Apollo Solars pump in all seasons, including winter.
---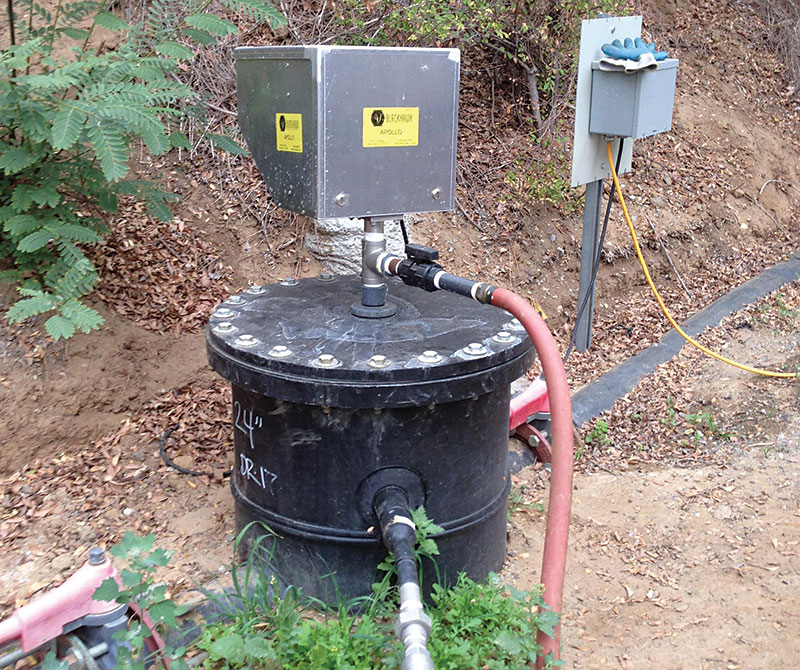 Apollo-AC Electric Piston Pump™ combines Apollo's operational reliability with the convenience of 24/7 grid AC electrical power. AC Model 101 operates to depths of 230 feet (70 meters) at flows to 1.4 gpm (5.3 gpm). AC Model 102 offers flows to 3.5 gpm (13.25 lpm) at depths to 100 feet (30.5 meters).
---
All Apollo and Blackhawk pumps can be customized with materials of construction to match needs at individual sites, and all are eco-friendly – no odors or gases are forced into the atmosphere.
---
To learn more and see how a piston pump operates, visit blackhawkco.com/how-blackhawk-solar-linear-rod-piston-pumps-work. Contact Mark Bertane: pump.info@blackhawkco.com, 630-469-4916.
---
Blackhawk Technology Company is the originator and the No. 1 manufacturer of above-wellhead, positive-displacement piston pumps – leading-edge technology refined by nearly 30 years of customer-driven improvements.

Blackhawk continues to introduce innovative products to the industry's most comprehensive line of pneumatic, electric and solar piston pumps and pump supplies, all designed to withstand the harshest weather and downhole pumping environments.

Founded in 1990, Blackhawk originated landfill and groundwater remediation piston pumps now covered by several patents and marks, with others pending. No company offers more real-world piston-pumping experience in landfills, chemical facilities, hydrocarbon production and remediation sites throughout North and South America, Europe, Asia, Africa and Australia.


###


Photos available.

Media:

Bob Carr

bcarr@blackhawkco.com 630-697-2876