New Elevated-Temp pumps
for landfills to 300°F
All pneumatic air or electric power above grade
GLEN ELLYN, IL — Blackhawk Technology Company, the industry's pumping-innovation leader for the past 25 years, introduces a new line of technologically advanced pumps and products built to manage fluids from 150°F to 300°F in Elevated Temperature Landfills (ETLFs) and other extreme environments.
The V-2 Elevated-Temp Pneumatic Piston Pump™ and Anchor Elevated-Temp Electric Piston Pump™ handle virtually anything flowable, regardless of chemical composition and viscosities, including boiling liquids.
Specialty materials of construction for the Elevated-Temp line include PEEK thermoplastic-polymer seal cartridges and pistons, Viton® fluoropolymer seals and U-cups, brass oiler plates and green-fiber thermoplastic rods, all developed for elevated-heat, chemically hazardous duty.
"Blackhawk's Elevated-Temps are the only environmental pumps we have found that stand up to temperatures of 300°F or greater," Mark Bertane, Blackhawk president, said.
Customer-inspired innovations in the Elevated-Temp line include a newly developed detachable foot valve that is easier to disconnect and clear of downhole fluid clogs, and Elevated-Temp stuffing boxes/seal plates that feature a drain port funneling any external fluid back into the well system. Patented snap-in stuffing-box cartridges offer quick-exchange, above-ground seal replacements.
Both the V-2 and Anchor offer two models to meet varying flow and lift requirements. The V-2 Elevated-Temp Pneumatic Model 101 produces lifts to 555 feet; Model 102 maintains steady flows to 5 US gallons per minute (gpm).
Anchor Elevated-Temp Electric drive motors are available in ½ HP and 1 HP versions. Model 101 produces lifts to 804 feet at 1 HP; Model 102 offers flows to 3.27 gpm. Anchors also can be made explosion proof.
As with other Blackhawk top-head-drive piston pumps, all power and driver mechanicals are cleanly and safely above the wellhead. There is no elevated-pressure air or electricity introduced below surface grade. Maintenance is less frequent, simpler and faster than with other types. The pumps are indifferent to vacuum, environmentally friendly and do not emit greenhouse gases.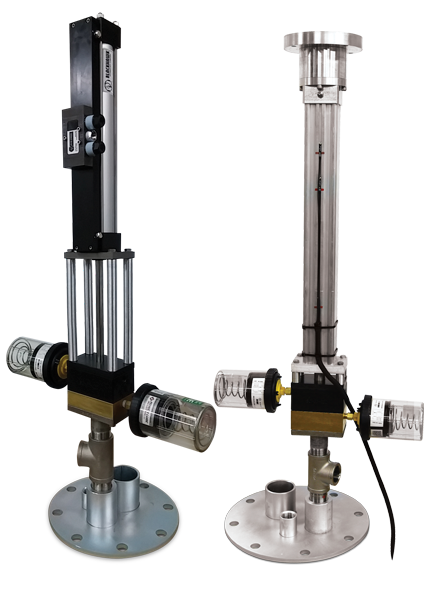 Above-well power and mechanicals also means the most significant pump investment is above ground and cannot be lost in the well.
Blackhawk Elevated-Temp products are successfully pumping at several of North America's most troublesome landfill sites.
NOTE: For landfills below 150°F, order standard Blackhawk electric, pneumatic or solar models. Above 300°F, contact Blackhawk to customize pumps with ultra-elevated-temperature components.
Blackhawk Technology Company is the originator and the No. 1 manufacturer of above-wellhead, positive-displacement piston pumps — leading-edge technology refined by 25 years of customer-driven improvements. Blackhawk continues to introduce innovative products to the industry's most comprehensive line of electric, pneumatic, solar and windmill-driven piston pumps and pump supplies, all designed to withstand the harshest weather and downhole pumping environments.
Founded in 1990, the company originated landfill and groundwater remediation piston pumps now covered by several patents and marks, with others pending. No company offers more real-world piston-pumping experience in tough landfills, chemical facilities, hydrocarbon production and remediation sites throughout North and South America, Europe, Asia, Africa and Australia.
To learn more and see how a piston pump operates, visit www.blackhawkco.com or call 630.469.4916.