Blackhawk Develops Advanced Electric Piston Pump to Ease Maintenance in Tough Applications
Blackhawk Technology Company, the industry's leading manufacturer of severe-service piston pumps and supplies, has developed a technologically advanced design for its electric top-head-drive pumps to make servicing and repair easier in difficult locations.
"The Anchor Electric's positive-displacement piston pumps put the electric motor and controls outside of the well, tank or sump, not down with the liquid being pumped," said Mark Bertane, Blackhawk president. "Inlet clogging is eliminated, and servicing is performed safely and easily above the wellhead. No pump pulling is required, and working parts are on the surface, making them easy to service."
The Anchor Electric Pump's motor is specially designed for hazardous and potentially hazardous environments, explosionproof applications, harsh weather conditions and remote locations.
Anchor Electric pumps feature a powerful electric driver for deep and/or high pressure applications. And because these pumps can be installed at any angle from zero to 90 degrees, they are well suited for low-flow remediation, landfill leachate, gas-condensate recovery, and gas-well dewatering applications.
"As the professional's choice in next-generation technology, Blackhawk continues to innovate to make pumping simpler and more productive for our customers," Bertane said.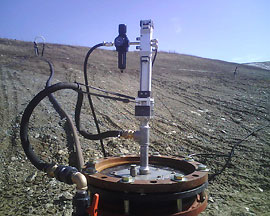 Blackhawk Technology Company is the originator and the No. 1 manufacturer of top-head-drive, positive-displacement piston pumps — leading-edge technology refined by nearly 20 years of customer-driven improvements. Blackhawk continues to introduce innovative products to the industry's most comprehensive line of pneumatic, electric and windmill-driven piston pumps and pump supplies, all designed to withstand the harshest weather and downhole pumping environments. Founded in 1990, the company originated landfill and groundwater remediation piston pumps. No one offers more real-world experience in tough landfills, chemical facilities and remediation sites, in North America and abroad.
To learn more, see our customer testimonials and case histories or call 800-469-4887.
Company Contact:
Lisa Ottley
Phone: 800-469-4887
Fax: 630-469-4896
Email: lottley@blackhawkco.com
Agency Contact:
Joyce Marcus
Phone: 847-282-3540 x14
Fax: 847-282-3541
Email: jmarcus@marcusinc.com