Blackhawk's Lower-Cost Apollo™ Pump Now More Powerful With Both Solar And Electric Options
GLEN ELLYN, IL — Blackhawk Technology Company, leading the industry leader in above-well-drive piston pumps, has boosted the power of its popular, innovative and lower-cost Apollo™ Electric Linear-Rod Pumps, all featuring solar and low-amp grid power options.
Responding to customer demand, Blackhawk's Apollo 101 now pumps to 250 feet or more (76 meters), and the Apollo 102 produces flow rates to 2.7 gpm (10 lpm). Apollo's linear-rod pump (LRP) technology means fewer moving parts and smoother operation for high efficiency at lower purchase and operating costs. No controller is needed.
The solar option includes solar panels to power the pump directly and/or high-capacity storage batteries for long-term operation, ideal for remote locations not served by electricity or pneumatic power. The power supply option converts conventional grid 24 volt/5 amp AC power to DC at startup, running at 2.5 amps.
The emission-free Apollo also can run dry without damage to the pump. Blackhawk is the only company to offer LRP positive-displacement systems for landfill, petrochemical, slow-pumping, remediation and process-pumping applications.
Blackhawk's above-well-drive piston pumps feature driver motors outside and above the wellhead — safely and cleanly away from the liquids being pumped. This means far less maintenance (no pump pulling — no pumps lost down the well), which significantly lowers the cost of ownership over conventional models.
"There are no air or gas emissions with Blackhawk piston pumps, which help keep operators in compliance," said Mark Bertane, Blackhawk president. "Blackhawk pumps go deeper, offer the broadest flow ranges and do not stall under vacuum — Blackhawks are more reliable in virtually all pumping environments, at lower lifetime costs."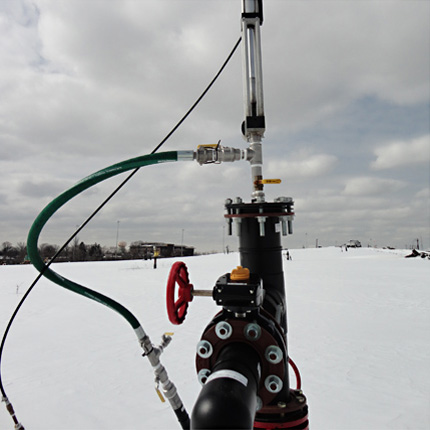 Blackhawk Technology Company is the originator and the No. 1 manufacturer of top-head-drive, positive-displacement piston pumps — leading-edge technology refined by 20 years of customer-driven improvements. Blackhawk continues to introduce innovative products to the industry's most comprehensive line of pneumatic, electric, solar and windmill-driven piston pumps and pump supplies, all designed to withstand the harshest weather and downhole pumping environments. Founded in 1990, the company originated landfill and groundwater remediation piston pumps now covered by several patents and marks, with more pending. No one offers more real-world experience in tough landfills, chemical facilities, hydrocarbon production and remediation sites throughout North and South America, Europe, Asia, Africa and Australia.
To learn more, visit www.blackhawkco.com or call 800-469-4887.