One-package shipping standard
speeds installation by putting all
pieces together on a single skid
GLEN ELLYN, IL — Blackhawk Technology Company, the industry leader in above-well-drive piston pumps, now ships all drive motor, control and downhole components as a single package to simplify customer operations, ease record-keeping and speed worksite activity, all at no extra cost.
"Our new shipping standard means greater savings and convenience for the customer through improved efficiency in both the field and the office," said Mark Bertane, Blackhawk's president. "When it ships, it fits."
Get to know Blackhawk drive motors
Also new for buyers are two options to get acquainted with Blackhawk's leading line of pneumatic, electric and solar-powered piston-pump drive motors.
Customers who purchase Blackhawk's industry standard downhole components for all their wells can then buy from one to four portable drive motors to rotate among the wells. This option allows an operator to see which wells perform before committing to buying a complete system.
A second option allows a customer purchasing the downhole components to rent the above-well drive motors before deciding to buy. "Our trials with these options have met with great success and relieve customers from making a yes-or-no decision before the well is installed," Bertane said.
Blackhawk Technology is the leading manufacturer of top-head-drive piston pumps, which feature drivers outside and above the wellhead — safely and cleanly away from the liquids being pumped. This means far less maintenance (no pump pulling — no pumps lost down the well), which significantly lowers the cost of ownership over conventional models.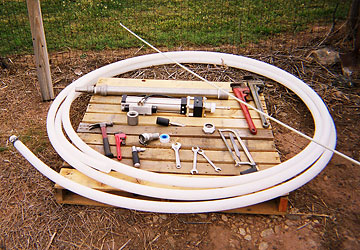 "Blackhawk piston pumps go deeper, offer the broadest flow ranges, can run dry and do not stall under vacuum – Blackhawks are more reliable in virtually all pumping environments, at lower lifetime costs," Bertane said. "There are no greenhouse gas emissions, which virtually eliminate odor issues and help keep operators in compliance."
Blackhawk is committed to continuous pumping improvement, resulting in a more productive, ecologically friendly and safer working environment at lower operating costs.
Blackhawk Technology Company is the originator and the No. 1 manufacturer of top-head-drive, positive-displacement piston pumps — leading-edge technology refined by 20 years of customer-driven improvements. Blackhawk continues to introduce innovative products to the industry's most comprehensive line of pneumatic, electric, solar and windmill-driven piston pumps and pump supplies, all designed to withstand the harshest weather and downhole pumping environments. Founded in 1990, the company originated landfill and groundwater remediation piston pumps covered by several patents and marks, with others pending. No one offers more real-world piston-pumping experience in tough landfills, chemical facilities, hydrocarbon production and remediation sites throughout North and South America, Europe, Asia, Africa and Australia.
To learn more, visit www.blackhawkco.com or call 800-469-4887.