Newly patented flexible pipe
doubles speed of installation;
safer and cleaner for workers
GLEN ELLYN, IL — Blackhawk Technology Company, the leading manufacturer of rugged-duty piston pumps and supplies for landfill, remediation and hydrocarbon-producing applications, has been awarded a U.S. patent for a new downhole assembly that will significantly speed installation times and allow greater flow rates.
The innovation is a flexible riser pipe, made of a continuous flexible material such as HDPE that does not have a coil memory. The flexible pipe can be installed down a well bore in one simple process, with the valve assembly and drive rod already inserted on site. This cuts installation time by one half.
And because the outer diameter of the valve assembly can be larger than the inner diameter of the riser pipe, significantly greater pump volumes and velocities are possible, enhancing the flow of slurry liquids.
"Customers will find next-generation ease and savings with our new, one-package downhole-installation process," Blackhawk president Mark Bertane said.
Installation is cleaner and safer because there is no need to attach multiple hard-pipe sections with couplings/unions or barbed fittings, as with competitors' older technologies. The lightweight riser pipe can be pre-coiled at the warehouse for more efficient storing and transportation, yet does not retain coil memory and inserts straight into the well bore.
Removing the pipe and piston assemblies, if ever needed, is significantly easier. As with all Blackhawk's top-head-drive piston pumps, it is never necessary to pull the drive assembly from a well. The motor sits above the wellhead, simply and safely distanced from the liquid being pumped.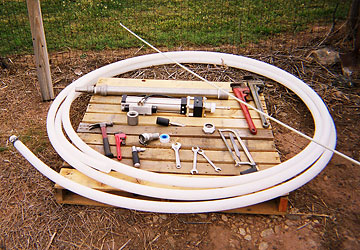 "Blackhawk collaborates directly with our customers to develop hands-on innovations that work," Bertane said. "As the professional's choice in next-generation technology, Blackhawk is making pumping simpler, more productive and more cost efficient."
Blackhawk Technology Company is the originator and the No. 1 manufacturer of tophead-drive, positive-displacement piston pumps — leading-edge technology refined by nearly 20 years of customer-driven improvements. Blackhawk continues to introduce innovative products to the industry's most comprehensive line of pneumatic, electric and windmill-driven piston pumps and pump supplies, all designed to withstand the harshest weather and downhole pumping environments. Founded in 1990, the company originated landfill and groundwater remediation piston pumps covered by several patents and marks, with others pending. No one offers more real-world experience in tough landfills, chemical facilities and remediation sites throughout North and South America, Europe, Asia and Australia.