Solar-Electric Water Pump for Rural, Farm, Ranch
GLEN ELLYN, IL — Blackhawk Technology Company, the leader in versatile, affordable piston pumps with reliable above-well motors, introduces the new Rockford Solar-Electric Piston Water Pump™, a simple and sturdy low-amp pump ideal for farm, rural and ranch use.
The Rockford pumps up to 400 feet deep or uphill with a ¼-hp motor driven by off-grid solar panel with batteries, solar alone or with low-amp grid-tie. The motor is a simple-operating linear driver with few moving parts. A piston pulls water, using the efficient and long-proven technology of an oil-field pump jack. Flow rates are a constant 1.1 gallons per minute (1,584 gallons per day) at any depth. Power draws range from a minimum 3 amps up to 8.8 amps at 400 feet.
For durability and long life, the motor and downhole well components are of higher quality materials, including several stainless-steel parts, with no PVC plastic. The compact motor above the wellhead makes installation and servicing easy and safe. Operation is steady and quiet. There are no emissions.
The Rockford is highly affordable to purchase and operate. The rod comes in a single piece, rather than sections, immediately ready to install. Customers can order the standard pump set-up or a unit customized for specific needs. The system then ships as a complete package. Major credit cards are accepted.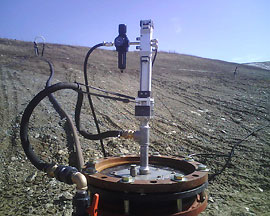 Blackhawk Technology Company is the originator and the No. 1 manufacturer of above-wellhead, positive-displacement piston pumps — leading-edge technology refined by more than 20 years of customer-driven improvements. Blackhawk continues to introduce innovative products to the industry's most comprehensive line of electric, pneumatic, solar and windmill-driven piston pumps and pump supplies, all designed to withstand the harshest weather and downhole pumping environments.
Founded in 1990, the company originated landfill and groundwater remediation piston pumps now covered by several patents and marks, with more pending. No company offers more real-world piston-pumping experience in tough landfills, chemical facilities, hydrocarbon production and remediation sites throughout North and South America, Europe, Asia, Africa and Australia.
To learn more and see how a piston pump works, visit www.blackhawkco.com or call 800-469-4887.