Blackhawk Introduces New Pump Line for Landfills; Customers Inspire Simpler Design, Improved Quality at Same Price
GLEN ELLYN, IL (April, 2006) — Blackhawk Technology Company, maker of the industry's most reliable pumps, is introducing an innovative new line of landfill pumps called The Vector, designed for greater simplicity, durability and cost-effective operation.
"The Vector is a significant improvement over earlier-generation piston pumps, including recently introduced competitor models that already are experiencing significant performance difficulties and failure," said Mark Bertane, Blackhawk president. "The Vector is the result of no-nonsense customer input, which has driven Blackhawk to produce a new line of pumps that represents the next generation of reliability for landfills — leachate pumping, gas-well dewatering and condensate recovery sump."
Tested and proven in operating landfills, The Vector pumps vertically, side-slope and even horizontally, featuring a simpler and more powerful pneumatic drive motor with an enclosed control system. The drive motor places all controls, valves and tubing on top and outside of the well, sump or tank and away from the liquid being pumped, a design resulting in highly dependable, efficient and easy-to-monitor mechanics. No high-pressure air or electric power enters the well, and the motor is fully field-serviceable.
The Vector's patented downhole portion features a newly designed capped and drained stuffing box to prevent surface leaking and to allow easy field servicing. In addition to a stainless steel strainer, the downhole pump also features a machined rolled and welded stainless steel foot-valve cylinder assembly with stainless steel check ball and seat to ensure no-leak performance and long pump life.
"Thanks to customer suggestions, we have been able to improve both performance and quality beyond recently introduced competitor models without raising our attractive prices," Bertane said. "The Vector pumps liquid all the way to the bottom of the well or sump, up to 1,000 feet. There is no metal-to-metal contact with our customizable patented downhole components, which carry a 10-year warranty — the best in the business."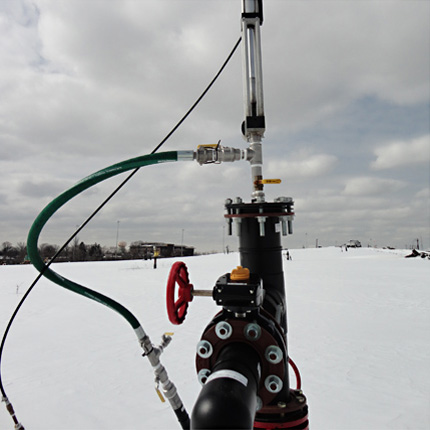 With pumping capabilities of 0-14 gpm, The Vector pumps liquid at a controlled rate, which reduces the risk of over-pumping and dramatically reduces silting and emulsification. Quick, clean field servicing is performed outside the well, limiting employee exposure to contaminants and site hazards.
"Landfill managers now have an easy purchase and replacement decision with the Vector," Bertane said. "Our goal is to continuously improve the pump that customers can install and virtually forget. Our aim is to make Vector pumps the new landfill industry standard."
BLACKHAWK TECHNOLOGY COMPANY, founded in 1990, manufactures the most comprehensive line of electric, pneumatic and windmill top-head-drive positive-displacement piston pumps in the industry. It is the originator of landfill and groundwater remediation piston pumps. As the only company with more than 15 years of real-world field experience in landfills, petrochemical facilities and remediation sites, Blackhawk builds pumps to withstand the harshest outdoor environments and the most difficult downhole pumping conditions.
For more information, please visit our Contact Us page.