Solar panel powers pneumatic
logic controller; designed for
remote locations, severe service
A solar panel option for a new programmable logic pneumatic pump controller (PLC) powers severe service pumps. This new solar panel, mounted directly on the unit, charges a maintenance-free 12Vdc gel battery for a renewable energy source in remote locations.
The controller, introduced by Blackhawk Technology Company, can turn one or more pumps ON or OFF based on run time, time of day, day of the week, or liquid level in the well, sump or tank. Air supply to the pneumatic pumps is turned on or off by a solenoid valve controlled by the PLC, based on input from a pressure transducer or a conductivity sensor.
"Solar power saves money and reduces headaches for landfill operators, particularly those with wells in hard-to-access locations," said Mark Bertane, Blackhawk president. "As the landfill leader in next-generation technology, Blackhawk continues to innovate to make pumping simpler and more productive for our customers."
Blackhawk Technology Company is the originator and the No. 1 manufacturer of top-head-drive, positive-displacement piston pumps — leading-edge technology refined by nearly 20 years of customer-driven improvements.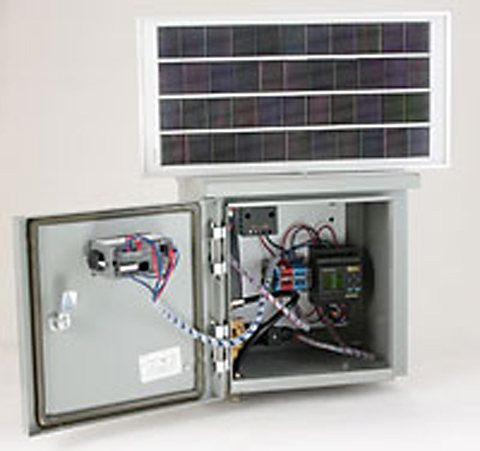 Blackhawk continues to introduce innovative products to the industry's most comprehensive line of pneumatic, electric and windmill-driven piston pumps and pump supplies, all designed to withstand the harshest weather and downhole pumping environments. Founded in 1990, the company originated landfill and groundwater remediation piston pumps. No one offers more real-world experience in tough landfills, chemical facilities and remediation sites, in North America and abroad.