Blackhawk's CleanHead Contained-Pump System™
Keeps Well Seals, Stuffing Boxes Clean & Dry
Airtight return is integrated
into all Blackhawk pumps
GLEN ELLYN, IL – To ensure that no below-ground liquid is present at or above the wellhead, Blackhawk Technology Company introduces a simple innovation to return any potential surface fluids back into the well or sump.
Blackhawk's airtight CleanHead Contained-Pump System™, now integrated into the full line of Blackhawk piston pumps, provides an exit drain from the stuffing box back to the well casing – keeping cartridge seals and wellheads clean and dry if seals begin to wear. A CleanHead port is included in all new Blackhawk well seals.
All pump seals, regardless of material or manufacture, will wear over time. Rates vary by site and usage, chemistry of the fluid being pumped and back pressure from discharge header lines.
The new Blackhawk system suggests when stuffing-box seals need to be replaced, giving operators the opportunity to schedule servicing.
And because all Blackhawk driver mechanicals and power are above surface grade, maintenance is easier, faster and safer. No pump pulling is necessary.
Blackhawk's pneumatic, electric and solar piston models pump virtually anything flowable and consistently outperform comparable pump styles.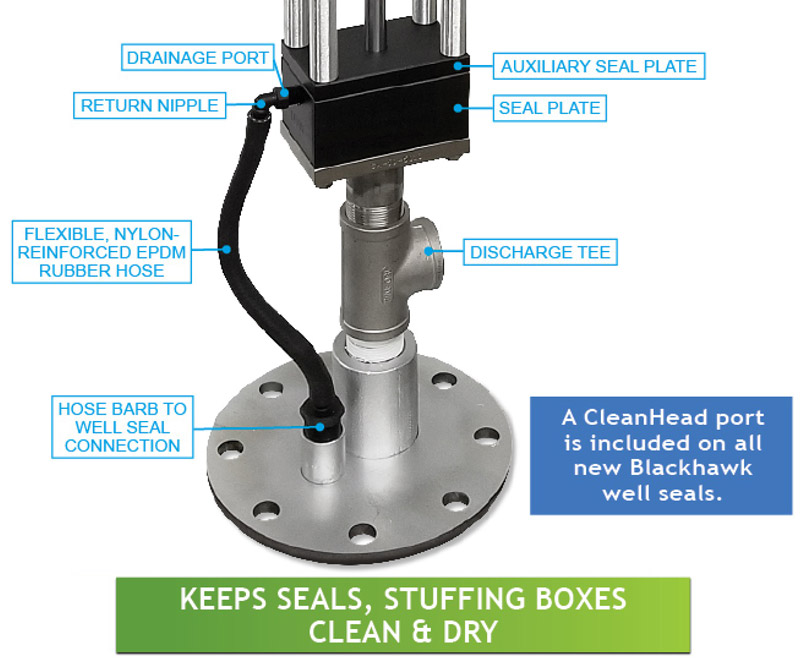 To learn more and see how a piston pump operates, visit How Reciprocating Piston Pumps Work.
---
Blackhawk Technology Company is the originator and the No. 1 manufacturer of above-wellhead, positive-displacement piston pumps – leading-edge technology refined by nearly 30 years of customer-driven improvements. Blackhawk continues to introduce innovative products to the industry's most comprehensive line of pneumatic, electric and solar piston pumps and pump supplies, all designed to withstand the harshest weather and downhole pumping environments.
Founded in 1990, the company originated landfill and groundwater remediation piston pumps now covered by several patents and marks, with others pending. No company offers more real-world piston-pumping experience in landfills, chemical facilities, hydrocarbon production and remediation sites throughout North and South America, Europe, Asia, Africa and Australia.
Photo available.
Media
Bob Carr 630-697-2876
bcarr@blackhawkco.com